Pro Plan® Wet Cat Food
PRO PLAN® Fussy Beauty Tender pieces with Salmon Gravy – Wet Cat Food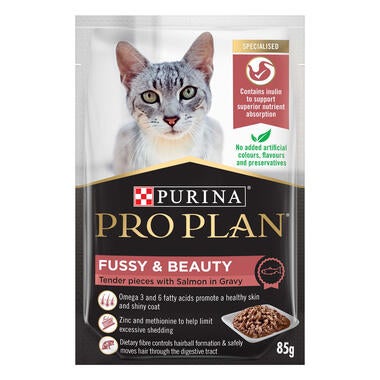 Tender pieces with Salmon in Gravy
Contains inulin to support superior nutrient absorption
Omega 3 and 6 fatty acids promote a healthy skin and shiny coat
Zinc and methionine to help limit excessive shedding
Features
Tender pieces with Salmon in Gravy
Contains inulin to support superior nutrient absorption
Omega 3 and 6 fatty acids promote a healthy skin and shiny coat 
Zinc and methionine to help limit excessive shedding
Dietary fibre controls hairball formation and safely moves hair through the digestive tract
No added artificial colours, flavours and preservatives
100% complete and balanced nutrition
PRO PLAN Derma Plus Wet Cat food is scientifically formulated to be 100% complete and balanced, containing all of the essential nutrition your adult cat needs, including optimal protein and fat levels to help maintain a healthy weight and ingredients to support a strong immune system. Derma Plus contains Omega 3 fatty acids to help promote a healthy skin & shiny coat along with Zinc & Methionine to help limit excessive shedding. It is made with real Salmon in a tasty gravy for a delicious flavour your cat will love.
Ingredients
Chicken, Lamb and Fish Products
Cereal and Vegetable Products
Minerals, Vitamins and Amino Acids
Soluble Fibre (incl. Inulin)
Antioxidants
Guaranteed Analysis
Crude Protein 12.6% 
Crude Fat 3.3% 
Moisture 80% 
Crude Fibre 1.5%
Omega 3 & 6 Fatty Acids 0.6% (Min) 
Zinc 30mg/ Kg (min)
Methionine 1.5g/ Kg (min)
Metabolizable Energy (ME) (Average): 86 kcal/100g 
Feeding guide
Adjust as needed to maintain ideal body condition. Divide into 2 or more meals. For maximum benefit, feed this product exclusively or mix with Pro Plan Adult dry food*.
Clean, fresh water should be available at all times.
Per Day
1.2 kg adult cat
1 pouch
4 kg adult cat
3+1/3 pouches
1 pouch + 46g of kibble*
6 kg adult cat
5 pouches
1 pouch + 79g of kibble*
8 kg adult cat
6+1/2 pouches
1 pouch + 112g of kibble*
STORAGE: Please store this pack in a cool, dry place, out of the sun. Refrigerate unused portion and consume within 2-3 days.
Wet Food
You may also like...