PRO PLAN® Adult Dog Food
PRO PLAN® Adult Essential Health Small & Mini Dry Dog Food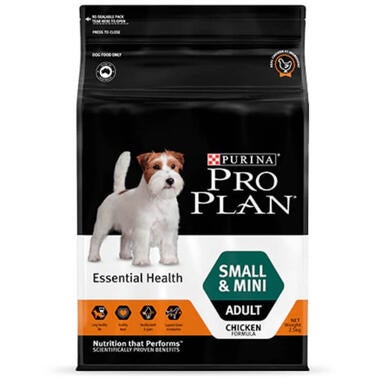 PRO PLAN® Essential Health Small and Mini Adult is a complete and balanced dog food for small and mini size dogs.
For long healthy life, feed to lean body condition using recommended daily feeding amount and Ideal Body Condition Guide
Key nutrients including taurine to support healthy heart functions
Balanced minerals, vitamin D and omega-3 fatty acids support healthy teeth and gums
Features
PRO PLAN Essential Health Small and Mini Adult is a complete and balanced dog food for small and mini size dogs
For long healthy life, feed to lean body condition using recommended daily feeding amount and Ideal Body Condition Guide
Key nutrients including taurine to support healthy heart functions
Balanced minerals, vitamin D and omega-3 fatty acids support healthy teeth and gums
Concentrated nutrients to support the faster metabolism of small breed dogs
Inulin, prebiotic from chicory, proven to balance intestinal micro flora
Scientifically proven antioxidants to boost immune defence
No added artificial colours, flavours or preservatives
PRO PLAN Essential Health Small and Mini Adult Dog Food
PRO PLAN Essential Health Small and Mini Adult is a complete and balanced dog food for small and mini size dogs. Your dog might be smaller than others, but their needs are just as complex, so to give your small dog the right nutrients for their size, choose PRO PLAN Essential Health Small and Mini Adult.
It's a complete and balanced small breed dog food that keeps your adult dog in good condition through tasty and balanced meals. It contains Essential Health, a combination of specifically selected nutrients at appropriate levels for your dog's size, including a prebiotic proven to improve intestinal health.
Essential Health helps take care of your dog's heart, teeth and joints, as well as improving their intestinal health through prebiotics. For a healthy, energetic dog that loves to share life's adventures with you, give them PRO PLAN Essential Health Small and Mini Adult.
PRO PLAN Essential Health Small and Mini Adult, the optimal balance of nutrients for peak condition for small & mini dogs with a weight range 1-10kg
Ingredients
Chicken (dehydrated chicken-natural glucosamine source, chicken)
Brewers rice
Whole grain wheat
Oats
Animal fat preserved with mixed-tocopherols (form of vitamin E)
Wheat protein
Barley
Minerals, vitamins, amino acids, organic acids and natural flavours (including calcium, phosphorous, sodium, chloride, potassium, magnesium, vitamin E, vitamin B12, zinc, iron, vitamin B3, vitamin C, vitamin D, choline, manganese, vitamin B5, copper, vitamin B1, vitamin B2, vitamin B6, folic acid, vitamin A, iodine, aluminosilicate, selenium)
Animal digest
Beet pulp
Fish oil and natural antioxidants
Guaranteed Analysis
Crude Protein (Min)   28.0%
Crude Fat (Min)   17.0%
Crude Fibre (Max)   3.0%
Calcium (Min)   0.9%
Phosphorus (Min)   0.7%
Glucosamine (Min)   400mg/kg
Vitamin C (Min)   70mg/kg
Vitamin E (Min)   460IU/kg
Vitamin D (Min)   1,000IU/kg
Taurine (Min)   0.08%
Omega 3 Fatty Acids (Min)   0.2%
Omega 6 Fatty Acids (Min)   1.5%
Metabolizable Energy (Min)   3.7kcal/g
Feeding guide
Adult Recommended Daily Feeding Guideline
| Weight of Dog | Up to 1hr activity | 1-3h activity |
| --- | --- | --- |
| 1kg | 38g | 43g |
| 2kg | 60g | 68g |
| 3kg | 78g | 90g |
| 4kg | 95g | 109g |
| 5kg | 110g | 126g |
| 6kg | 125g | 143g |
| 7kg | 138g | 158g |
| 8kg | 151g | 173g |
| 9kg | 164g | 187g |
| 10kg | 176g | 201g |
Feed amount based on 250mL cup (contains approximately 100g PRO PLAN Small and Mini Adult)
Feeding Instructions
Clean, fresh water should be available at all times.
Using the feeding table
To help your dog maintain an ideal body condition, monitor your dog's weight on a regular basis, making sure that their ribs are easily felt and their waist is visible when viewed from above. Maintaining an ideal body condition can impact your dog's lifelong health.
Making the switch to PRO PLAN
By choosing to feed your dog PRO PLAN you can be reassured that our tailored nutrition will have a positive impact on your dog's long-term health and well-being. Although you will be keen to see the difference PRO PLAN can make in your dog, please allow 7 – 10 days to transition them from their current food. This enables your dog's digestive enzymes to gradually adapt to the change in ingredient and nutritional content, assisting with the proper digestion of the food and helping prevent stomach upsets. Each day, simply feed a little less of the previous food and a little more of PRO PLAN until you are feeding PRO PLAN exclusively.
Storage
Please store this pack in a cool, dry place, out of the sun.
Dry Food
You may also like...