PRO PLAN® Healthy Puppy Food
PRO PLAN® Puppy Healthy Growth and Development Large Breed Dry Dog Food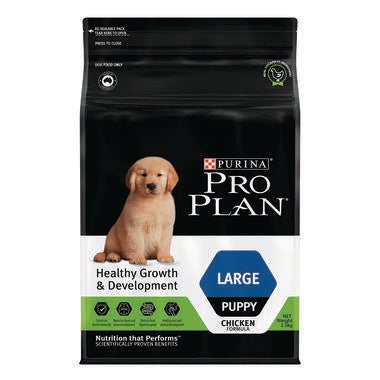 PRO PLAN® Healthy Puppy Food
PRO PLAN® Healthy Growth and Development Large Puppy is a complete and balanced dry puppy food for large breed puppies.
Colostrum provides good nutrition for your puppy to develop a healthy immune system
DHA from omega-rich fish oil helps nourish brain and vision development
Helps maintain gastrointestinal health with colostrum
Suitable for breeds over 25kg at maturity
Features
Colostrum provides good nutrition for your puppy to develop a healthy immune system
DHA from omega-rich fish oil helps nourish brain and vision development
Helps maintain gastrointestinal health with colostrum
Natural glucosamine and minerals to support healthy joint skeletal and teeth development
Highly digestible quality ingredients for superior nutrient absorption
Scientifically proven antioxidants to boost immune defence
No added artificial colours, flavours or preservatives
PRO PLAN Healthy Growth and Development Large Puppy Food
PRO PLAN Healthy Growth and Development Large Puppy is a complete and balanced dry puppy food for large breed puppies. Your large breed puppy is full of fun and energy, and has their own nutritional needs so give them a food that is specially formulated just for them.
Healthy Growth and Development contains colostrum proven to help develop a healthy immune system to combat daily challenges.
Formulated with all of the essential key nutrients that large puppies need including colostrum, which helps maintain gastrointestinal health and combination of key nutrients that help to support healthy joints for your puppy's active lifestyle. The nutrients in this dry dog food have been specifically adjusted for his size and age.
This dry puppy food is also suitable for gestating or lactating bitches.
PRO PLAN Healthy Growth and Development Large Puppy has been specially developed by our vets and nutritionists to help your puppy maintain his overall health.
PRO PLAN Healthy Growth and Development Large Puppy, the optimal start in life for large puppies with an adult weight of 25kg+
Ingredients
Chicken (Dehydrated Chicken-Natural Glucosamine Source, Chicken)
Brewers Rice
Whole Grain Wheat
Oats
Animal Fat Preserved With Mixed-Tocopherols (Form of Vitamin E)
Animal Digest
Barley
Minerals, Vitamins, Amino Acids, Organic Acids and Natural Flavours (Including Calcium, Phosphorous, Sodium, Chloride, Potassium, Magnesium, Vitamin E, Vitamin B12, Zinc, Iron, Vitamin B3, Vitamin C, Vitamin D, Choline, Manganese, Vitamin B5, Copper, Vitamin B1, Vitamin B2, Vitamin B6, Folic Acid, Vitamin A, Iodine, Aluminosilicate, L-Carnitine, Selenium)
Beet Pulp
Wheat Protein
Fish Oil
Colostrum and Natural Antioxidants.
Nutritional Composition
Crude Protein (Min)   28.0%
Crude Fat (Min)   15.0%
Crude Fibre (Max)   4.0%
Calcium (Min)   1.0%
Phosphorus (Min)   0.8%
DHA (Min)   0.1%
Glucosamine (Min)   400mg/kg
Vitamin C (Min)   70mg/kg
Vitamin E (Min)   460IU/kg
Omega 3 Fatty Acids (Min)   0.5%
Omega 6 Fatty (Min)   1.5%
Metabolizable Energy (Min)   3.6kcal/g
Feeding guide
Recommended Feeding Amount (Grams per day)
Age in weeks
Meals/day
25kg (expected adult weight)
35kg
45kg
60kg
75kg
90kg
Up to 3 weeks
 
Mother's milk only
 
 
 
 
 
3-5 weeks
At will
Introduce soaked kibble

(1 part + 2 parts of warm water)
 
 
 
 
 
6 weeks
3-4 meals

(moistened)
106g
117g
132g
159g
184g
208g
3 months
3 meals
212g
233g
265g
371g
477g
574g
4 months
3 meals
244g
281g
302g
434g
514g
611g
5 months
3 meals
265g
334g
381g
562g
713g
864g
6 months
2 meals
323g
392g
440g
646g
766g
916g
9 months
2 meals
381g
530g
646g
858g
1127g
1347g
12 months
2 meals
Adult*
Adult*
Adult*
922g
1081g
1240g
*Feed PRO PLAN Large Adult
Feeding Instructions
Clean, fresh water should be available at all times.
Feeding for puppies: Puppies start to nibble at solid food at 3 to 4 weeks old. After weaning, PRO PLAN can be fed moistened or dry. REFER TO FEEDING TABLE.
Use the feeding table: To help your puppy maintain an ideal body condition, monitor your puppy's weight on a regular basis, making sure that their ribs are easily felt and their waist is visible when viewed from above. Maintaining an ideal body condition can impact your puppy's lifelong health.
Feeding for Gestation & Lactation
PRO PLAN Healthy Growth and Development Large Puppy provides the extra nutrition needed by reproducing females during gestation and lactation.
Making the switch to PRO PLAN
By choosing to feed your dog PRO PLAN you can be reassured that our tailored nutrition will have a positive impact on your dog's long-term health and well-being. Although you will be keen to see the difference PRO PLAN can make in your dog, please allow 7 – 10 days to transition them from their current food. This enables your dog's digestive enzymes to gradually adapt to the change in ingredient and nutritional content, assisting with the proper digestion of the food and helping prevent stomach upsets. Each day, simply feed a little less of the previous food and a little more of PRO PLAN until you are feeding PRO PLAN exclusively.
Storage
Please store this pack in a cool, dry place, out of the sun.
Dry Food
You may also like...