PRO PLAN® Wet Pouch for Cats
PRO PLAN® Adult Sensitive Chicken in Gravy Wet Cat Food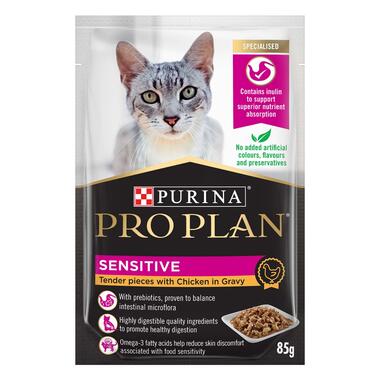 PRO PLAN® Wet Pouch for Cats
Tender pieces with chicken in gravy to promote healthy digestion in adult cats from PRO PLAN®
Inulin to support superior nutrient absorption
Prebiotic proven to balance intestinal microflora
Promotes healthy digestion
Features
Contains inulin to support superior nutrient absorption
Prebiotic proven to balance intestinal microflora
Highly digestible quality to promote healthy digestion
Omega-3 fatty acids help reduce skin discomfort associated with food sensitivity
No added artificial colours, flavours and preservatives
PRO PLAN® Adult Sensitive Chicken In Gravy Wet Pouch Cat Food
Tender pieces with Chicken in Gravy.
Ingredients
Chicken, Lamb and Fish Products
Cereal and Vegetable Products
Minerals, Vitamins and Amino Acids
Soluble Fibre (incl. Inulin)
Antioxidants
Guaranteed Analysis
Crude Protein (Typical) 12.8%
Crude Fat (Typical) 3.3%
Moisture (Max) 80.0%
Crude Fibre (Typical) 0.5%
Metabolizable Energy 83kcal/100g
Calorie Content (calculated)
83 kcal/100g
Daily Feeding Instructions
For a 1.2kg cat feed 1 x PRO PLAN Adult Wet Pouch
For a 4kg cat feed 3 1/3 x PRO PLAN Adult Wet Pouches

OR

1 x PRO PLAN Adult Wet Pouch + 42g of kibble
Adjust as needed to maintain ideal body condition. Divide into 2 or more meals. For maximum benefit, feed this product exclusively or mix with PRO PLAN Adult dry food. Clean, fresh water should be available at all times.
Wet Food
You may also like...